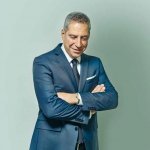 Speed matters, whether it's speed in execution, speed in gaining market share, speed in bringing new products to market, but the most important speed is the velocity of goodness. Rush to be good.
When I first started out, I was lucky enough to be surrounded by a family enriched with goodness and generosity. They taught me that it's never too early to do good. My family members were my mentors. From early on, I have always encountered opportunities to do good, and always embraced them and tried to help as much as I could.
Today, my responsibilities have grown, and my impact serves a wider reach. The wider your responsibilities, the greater the involvement and the larger your ability to make a positive impact.
That's why I've set up The Bassoul Dignity Foundation (BDF). We give people the tools, resources and support to become effective citizens in society. Our goal is to empower them to stand up and write their own path with dignity.
Born in Beirut, Lebanon, Selim A. Bassoul is a...
100 Million
people worldwide are displaced